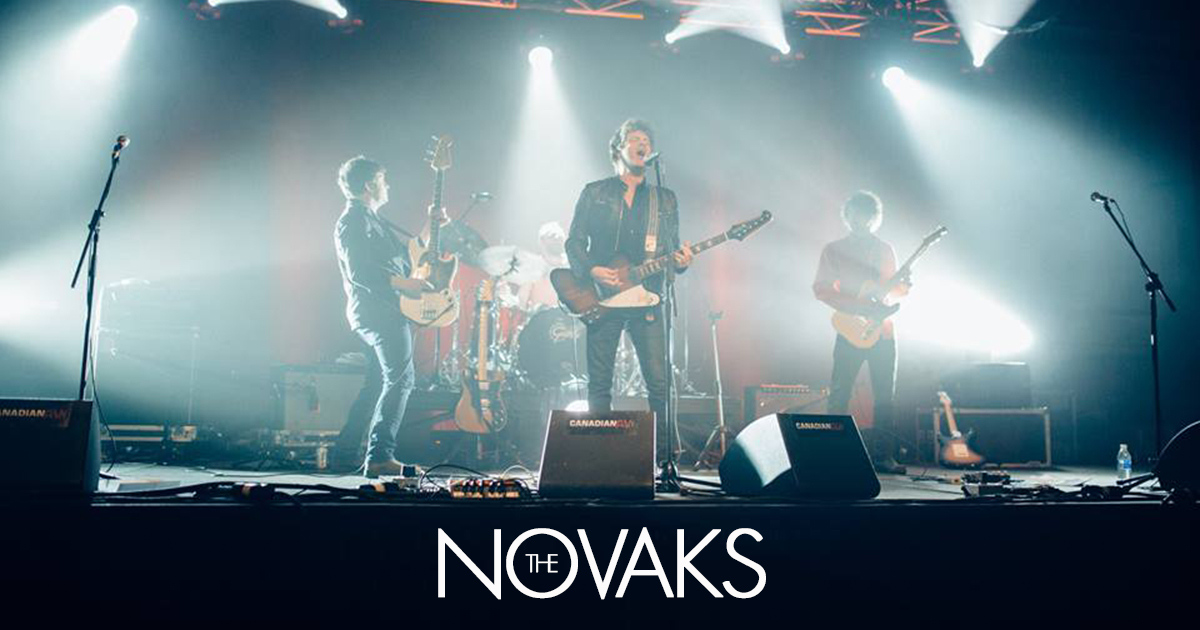 By: Dillon Collins

One of Newfoundland and Labrador's most endearing and successful rock outfits, The Novaks are a name synonymous with many things. One such attachment to a decade plus long career is an assurance of quality, and of having one's head rocked off by a sound that is as intense as it is real and visceral. It is equal parts calm and chaos, which have cemented the quartet of Mick Davis, Mark Neary, Elliot Dicks and Brad Power as some of the island's most respected rockers. 

Fresh off the debut of their first studio album in seven years, the long-awaited "Eager Power Gentle Fury", Davis sat down with Rock Island for an in-depth interview and career catch-up. 

"We said we were going to do it and I know we have enough fans and people who have been following us for 15 years," Davis says on the acclaimed release. "I just want to do good on this promise that there is an album and maybe a few shows. That's it really." 

On the unique album title, Davis shared that there is an intriguing back-story which hearkens back to the band's early days. 

"It's something I had for awhile, this stream of consciousness with those words," Davis shared. "It really reminded me of this great review we had way back when on our first album. I think it came out of Edmonton or somewhere. The guy basically said that The Novaks are vicious enough to destroy your party, but sweet and sincere enough to clean it up the next day. I just thought that was the best review we've ever gotten. The band has moments of ferocity, gentleness, sweetness and all those things. It really works and this album is no different. We have stuff that is bordering on sort of old-fashioned Black Sabbath metal and then there's stuff that sounds like folk-country Traveling Wilburys stuff." 

Though the band has remained intact for 14 years, each member has found ulterior outlets, or several, of which to keep themselves occupied, and to keep the creative juices flowing. This is much the pattern of many Newfoundland musicians, many of which even dabble in multiple genres. 

"You have so many artists doing all of these things as just one artist. It's the day and age where there are so many things to be influenced by," Davis said. "There's hardly anybody out there who has a particular sound. If you did you'd be bored with yourself anyways and have to move on. For us its about the treatment and treating the song how it will sound best. It's not like 'well we're a guitar band so we have to use guitars.' If it sounds better with a synthesizer we'll do it." 
While the days of packing up the van and trekking across the country are long-over for Davis and The Novaks, there is a certain comfort and assurance to know that at any given time the four men can congregate and conjure up first rate and perfectly timed rock. They have the timing, connection and chemistry that can only be gained through years of united artistry.  
"It's funny, The Novaks is a complicated thing," Davis said. "It's been around so long and we're such great friends and we've had every opportunity any band could dream for, but a lot of times it wasn't the opportunities that we physically wanted or that we felt comfortable with. The band itself,  every time we get together we don't have to rehearse or speak to each other. It's just magic on stage. It's just a really good band. We've just got it with each other. That's always a breath of fresh air, to be able to get together and realize that yeah, this is good. People like it and it's worth it just that people like it." 
  
For those aiming to set out down the path of a 'rock star,' Davis has some words of wisdom, and caution.  
"Younger people ask me what it's like and should I try this or try to do this for a living? And the only thing that I can say at this point is make sure you're doing it for the sake of doing it first. If you're letting your heart go by the wayside thinking about the fame and the fortune you're going to be upset one day. There's so many great bands and there will continue to be great bands and do all right. If you're looking for a fast-track to success, forget it man. It ain't going to happen. If some people are willing to go and do anything for it? That's the difference to me. There are artists and there are people who will do anything to get famous in any way. They might be a singer-songwriter one week and if they can get ahead faster by doing something else then they'll do it. I like my artists, people making art for the sake of art." 
"Eager Power Gentle Fury" is available now online and wherever local music is sold.