Out Of Earshot 2: An Inclusive Festival Experience

By: James Titford
For the second year in a row Out Of Earshot brought together a stunning group of D.I.Y. artists from both the local scene and across Canada.  
With how good last year's festival was it was hard not to be excited for this year. A fresh set of acts from near and far with no boundaries of genre and style over three days was enticing, to say the least.
After taking in the majority of the events it's safe to say Out Of Earshot 2019 excelled with great music, and having a strong sense of inclusion and community. Everyone welcome, no one turned away, and safe environments for all made it feel like more than just a series of concerts. This was an event where every detail was equally important, not just the music.
Night 1: Greta Warner, Weary, Ilia Nicoll & The Hot Toddies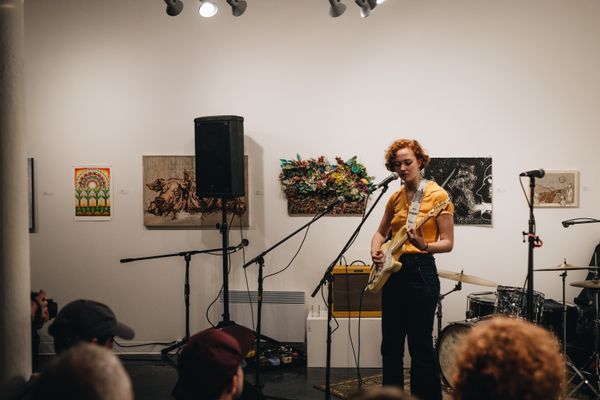 Photo by: Adam Hefferman
Starting the festival was a three set show of local artists at the Eastern Edge Gallery. A local art gallery that served as both a venue and headquarters for Out of Earshot. Surrounded by works from various artists of wildly varying styles, the venue fit the themes of diversity and inclusion of the festival.  
Greta Warner started things off with a set of cozy lo-fi indie pop. With a guitar, loop pedal, and vocals, Warner played a short, satisfying set featuring some of their longer songs from their various releases.
Their songs about car crashes, rejection, personal struggles, and relating to the character Lindsay Weir from the T.V. show "Freaks and Geeks" showcased a strong performer unafraid to drop their defenses, and let the audience into their own difficult times, all with a sense of humor.
Led by Kate Lahey, Weary's lyrically driven alternative rock felt like the natural follow up to Greta Warner. Mostly playing songs from their album "Feeling Things", Weary bring to mind slacker and college rock with their laid back, catchy style.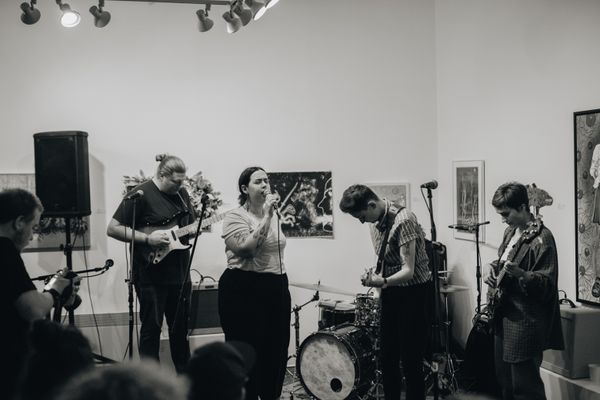 Photo by: Adam Hefferman
Songs like "Arcade" and "Grocery Store" will have you lost in the bands moody melodies of love and loss. For the final set, Ilia Nicoll & The Hot Toddies brought a whole new energy to the stage. The band's bright and vibrant indie pop combined with a very distinct sounding rhythm section gave the band an unexpectedly heavy sound. The set felt like it was divided into two halves, first the fun, upbeat songs with summer vibes like "Another Hero Falls" and "What I'd Do", and the second sounding reminiscent of third-wave ska. About halfway through there was a shift to more sombre alternative rock sounds with songs like "In Your World", feeling closer in style to the previous acts. 
It was during this time, Ilia invited their brother on stage who had been away for years to perform a song from one of their old bands, a fun family reunion for both the band and audience. 
The festival was off to a solid start.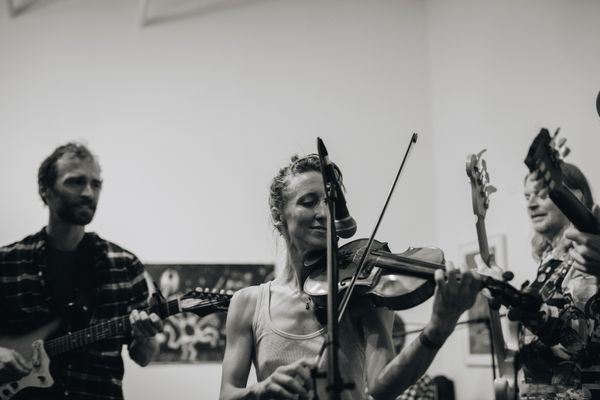 Photo by: Adam Hefferman
Gossamer/ Worst Lay/ BACKXWASH/ Grief
If you wanted to blow off some steam with some aggressive live music, The Ship Pub was the place to be that night. The warm, packed venue played host for a night of chaotic sounds that was a far cry from the previous show.
First on stage was local screamo five-piece Gossamer. Gossamer's set of emotionally charged post-hardcore is for anyone looking for music in the same vein as Orchid, Lord Snow, and Frail Hands, a festival favourite from last year. With anguished screams over shoegaze-esque guitars and a fierce rhythm section, Gossamer set expectations high for what was to follow. 
Describing their set as "punk therapy", Worst Lay brought a short blast of friendly hardcore. Made up of members from various other St. John's D.I.Y scene bands, Worst Lay is always a fun time. With vocalist Renee Sharp raging through the setlist, they took short breaks that kept the crowd cheering and laughing with to-the-point stage banter. Worst Lay tore up the stage and left you smiling.
In the middle of this primarily punk centered show, Montreal's trans rapper Backxwash's experimental hip hop stood out as one of the most exciting shows of the festival. Backxwash's rage filled lyrics about sexuality, gender, religion, anger, voodoo, and witchcraft backed by abrasive beats was a one person powerhouse no one was going to look away from.
Even if you didn't know the songs beforehand you'd be shouting along to songs like "Devil In a Mosh Pit" and "Don't Come To The Woods" before they were over. Backxwash also had visuals projected behind them for each song, be it music videos for the songs or other graphic designs they had to accompany each track, which made for a unique experience. An example of this was pairing "BLACK SAILOR MOON" with edited clips from the anime "Sailor Moon", which the crowd went wild for. Backxwash's combination of audio and visual arts shook up the night in the best way possible. 
If the first two acts left you hungry for more punk, then Halifax's Grief was the dessert you needed. Grief's violent barrage of noisey hardcore was a whirlwind that could only be stopped by the sound shutting down.
This was a band that pulled no punches and wanted to obliterate everything around them. Not even the confines of the stage could hold them back with the singer pacing the floor as they held nothing back with their enraged vocals, nightmarish guitars, and pulverizing drum and bass. Even being front row for this set left you feeling like you were pinned against the wall. Grief didn't just end the first night, they destroyed it.
Night 2: Kira Sheppard, Skin Tone, Juice Girls
The second night of Out of Earshot 2019 was a night of unpredictable live music that never failed to impress and inspire.
Starting things at Eastern Edge Gallery was local musician Kira Sheppard. This alternative folk set consisted mostly of Kira on vocals and harp while being backed by electronic drums and keyboards. The soothing soundscapes and gentle melodies felt like a meditation for both the performer and audience.     
With the majority of acts being guitar driven or having a more aggressive feel to the music Kira Sheppard's set was a welcome change of pace. Switching to an acoustic drum kit for the last song for a less ambient number felt like a transition to get the audience energized and prepared for what was to come, but nothing could have properly prepared you for Skin Tone.
Coming from Montreal, experimental musician Skin Tone was an act that caught a lot of people off guard.  With lowlights and a projection of a distorted orb resembling the Earth, the set began with ambient loops and voice samples warning of "the results".
Soon Skin Tone began telling the story of an app that slowly took over the world, interspersed with free jazz saxophone solos throughout, each one getting louder and more intense as the story's tension increased with riots and assassinations. Finally, it reached a boiling point with Skin Tone leaving the stage playing an unhinged improvised solo as they stomped through the audience with tap shoes on before returning to the stage.
Skin Tone's combination of experimental music and afrofuturism storytelling was one of the most unique and fascinating acts of the event.
Halifax's Juice Girls brought the first show of the night to a close. Their mix of dream pop and shoegaze had the audience hooked with their slower, sweet and catchy songs, a laid back stage presence that still demanded your attention and a garage rock like energy. 
This was an early show on their Citrus summer tour, if this tour is coming near you it's one you won't want to miss.  
Cuerpos, Aquakulture, Dregqueen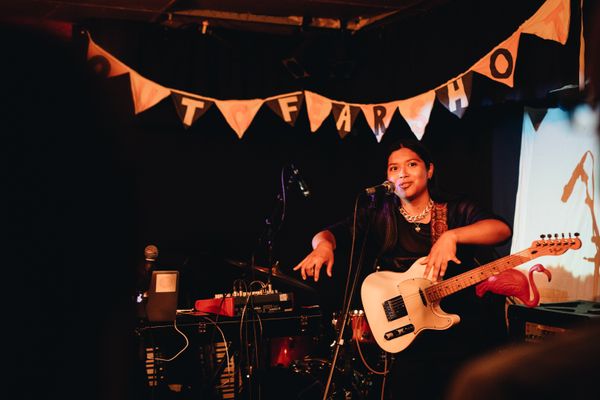 Photo by: Adam Hefferman
An unreal show was underway at the crammed Ship Pub. Starting off the show was Cuerpos, a local duo who were unfortunately performing their last show. Cuerpos had quite the unique sound, combining the rhythmic dance nature of dembow and reggaeton with the effects driven guitar playing of shoegaze, as well as elements of Latin roots, Cumbia, and techno.
It sIt sounds like a lot to take in, but the eclectic mix works incredibly well, with a fun, vibrant base allowing for colourful guitar work, and vocals having something to both play with and also remain grounded so it didn't trail off and become unfocused. Cuerpus' tight, hypnotic jam may have been their last, but was a nice start to a night of wonderful music and rising temperatures.
While all sets were enjoyable and a great time, Halifax's Aquakulture stands out as being one of the most fun performances of the festival. Starting their set at exactly 12:00 am to ring in the bass player Jeremy Costello's 30th birthday (who was at the festival last year around this time playing with the band Rabies), there was never a dull moment.
Aquakulture's blend of funk, soul, and R&B is delivered through a wild, lively stage show with an impressive amount of dancing and grooving from the band on such a cramped stage. Keeping with the fun feel, the crowd was treated to occasional breaks such as beatbox competitions, hilarious stage banter, and even tricking the crowd into doing most of  "The Cha Cha Slide."
With an exhilarating, sweaty set, Aquakulture excelled in both their musical abilities and showmanship.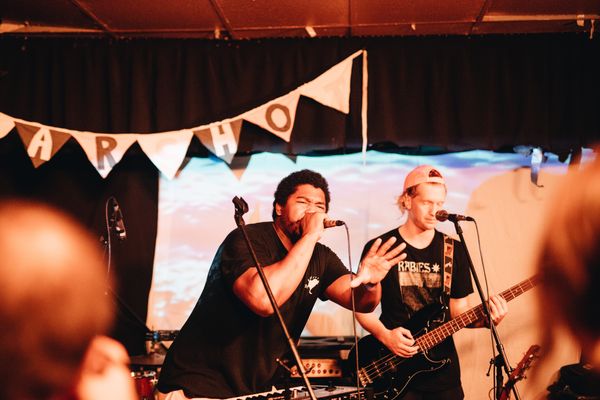 Photo by: Adam Hefferman
Dregqueen was the dark curveball that ended the show. Following the hypnotic dance of Cuerpus, and vibrant funk of Aquakulture, Dregqueen's "trans fem body punk" felt like a dance party through someone's personal hell.
Leaving the stage behind, the duo took to the floor with their massive synth rig for an intimate, intimidating performance. A crushing mix of EDM and industrial, wrapped in a goth aesthetic, Lees Brenson's decimating drum machines and screaming synths sounded like they were challenging the audience to dance while front-person Mitch Westcott moved through the crowd, shouting and barking their lyrics of pure pain and rage.
Dregqueen's stunning set combining extreme electronic music and drag performance was a personal favourite of mine.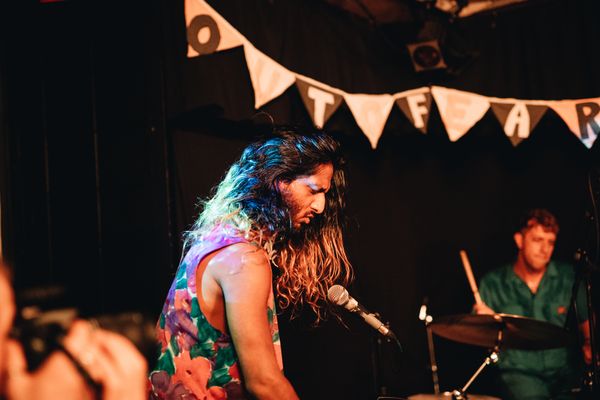 Photo by: Adam Hefferman
Night 3: Swimming, Dog Food, Grief
With two local groups, one with members from Toronto, and the return of a crowd favourite, this show at Eastern Edge Gallery was a great showcase of punk, but also surprising in terms of the audience.
A free, all ages punk show usually draws out a fair amount of younger fans, but was mostly the same crowd that had been to the previous shows, which is a shame, seeing as most of the festival was 19+ events and having one show open like that was a great idea by the organizers and opportunity for younger fans that many missed out on.
Attendance aside the show was a great time, with Swimming kicking things off. Swimming are a local emo group who's tight yet relaxed live shows are always a treat. With a sound reminiscent of the classic post-hardcore approach to emo, with shades of pop-punk and math-rock, Swimming played a set full of catchy songs filled with angst and hooks, highlighted by stellar musicanship from all members of this three piece.
Dog Food left the audience hungry for more. Serving up a heavy load of hardcore, Dog Food's raw, furious approach was pushing into grindcore territory at points. Angry, loud, and to the point, Dog Food was another solid hardcore group from the festival.
Having already covered Grief in this article, all I'll say is that it was another great show and just a brutal as before.
Muffin/ Isolation Kills/ Prime Junk/ Century Egg
While this may have been the last show of the festival it was also the first show for two bands on the bill. 
Starting as an RPM challenge band, Muffin are a five piece made up of mostly familiar faces. Consisting of members of Swimming and Gossamer, the group also included Sarah Harris on drums, who played with various other groups during the festival and did sound for several of the shows, and Rebecca Howie on lead vocals.
Muffin's sound is a nice mix of garage rock and power pop, with gentle vocals over fuzzy guitars. Hopefully, we'll see more of Muffin in the future, their original material was great and their decision to end the set on a cover of Alvvay's "Archie, Marry Me" was a smart one because they killed it.
Speaking of killing, next was Isolation Kills. A local hardcore three piece, the group came together the previous winter, encouraged by the fact they were all nieghbours and friends. Playing their debut show, this group of familiar faces (with members being involved with various other local groups), played a feisty, yet affectionate set, more in the vein of Worst Lay than Grief.
One thing that made this show stand out was Nicole Squires and Pepa Chan swapping instruments and vocals between songs, which was an interesting choice, adding to the playful nature of the set.
After two first shows, Montreal's Prime Junk played their last. Taking into account the band had previously dissolved before the festival it's a surprise this set happened at all. Sole member Nat was joined by festival organizers Sarah Harris and Jess Barry to play through a selection of Prime Junk's vulnerable noise pop while recounting the painful split of the group, and the circumstances around each song.
The heightened emotions added to the already distressed music, making for a raw, powerful send off to Prime Junk. While hanging up the Prime Junk name, let's hope to hear more music from Nat in the future, as they're a very talented song-writer and performer, whose work is both heartfelt and inspiring.
Much like the dish they're named after, Halifax's Century Egg are a delicacy. A group that prides themselves on the diversity of both their members and influences, their music is an eclectic mix of styles including indie rock, power-pop, asian folk rock, and others. While pinning their sound down is difficult, one thing that isn't hard to do is enjoy their music.
Even missing their bass player Nick Dourado, and much of Robert Drissdelle's already massive guitar rig, Century Egg showed no signs of breaking. Bringing together technical musicianship, well-rounded songwriting with strong pop-sensibilities, and an intensity that is impossible to turn away from, this was the perfect show to end this year's Out of Earshot.
Out Of Earshot 2019 was a celebration of independent art that brought out incredible performers and appreciative crowds. While not making it to all events the ones attended were a strong representation of the festival as a whole.
Congratulations to the organizers for another year of holding an excellent event that was as exciting and entertaining as it was welcoming and safe for all involved.
With year two in the books, there is nothing but anticipation for year three.
 
website: http://outofearshotfestival.com/
facebook: https://www.facebook.com/outofearshot/
twitter: https://twitter.com/OOEfestival
instagram: https://www.instagram.com/outofearshotfestival/