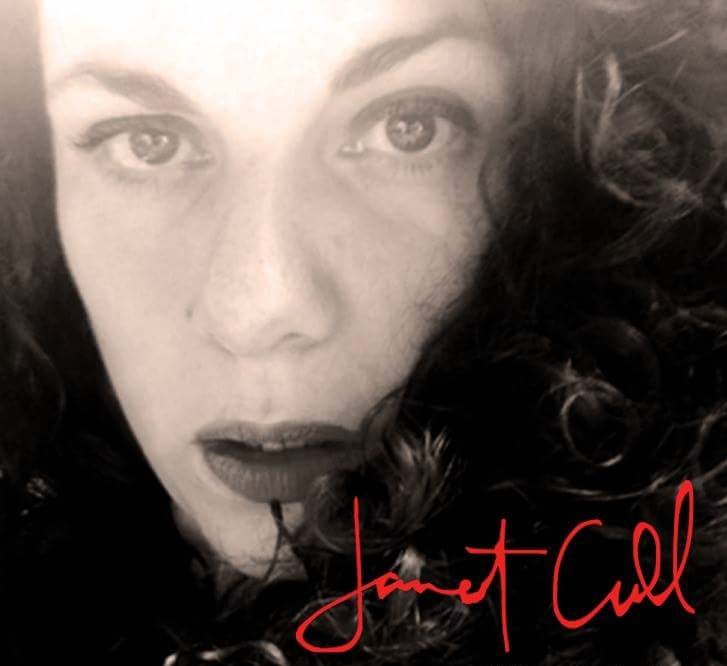 By International Musician of Mystery: Todd Shelter
---

If you haven't heard of Janet Cull, then I must assume you moved to Newfoundland and Labrador approximately 7 minutes ago. She is everywhere. She does everything. She is always performing. From musical theatre to soul to dinner theatre to gospel, she does it all. So ... if you have never heard of her, it's not her fault. 
When the news came down from the top that I was tasked to review the new Janet Cull album, Real Tough Love, my first question was "what kind of music is it going to be?" and after spending the last few days listening to it over and over I can now answer that question. It's all of them. 
Real Tough Love varies from soul throwbacks to 80s pop-rock throwbacks to a bunch of other throwbacks. I mean, I could compile a list of artists riffed on here but they are loose references at best so maybe the best description of her style is to call it 'throwback'. 
There is a hint of familiarity with many of these songs but it's not as though you've heard them before, but rather you've felt them before, you are familiar with the vibe. Even though Janet's 'throwback' style varies throughout the album, her individual songs fit consistently alongside the hits of the eras they are influenced by (That alone is quite a feat!). 
Not only has Cull and crew managed to pull off these varying styles, but they do it with ease and grace given the potential problems they could have run into. Maybe it was the skillful shot calling by producer Kalem Mahoney, or maybe it was the deft engineering and mixing of Justin Merdsoy (with the help of Robert Kelly and Peter Green), or maybe it was the line up of some of NL's most sought after session musicians. Trying to find a balance between kitschy and pretentious when referencing so much material from the past seems highly improbable, yet Janet and crew pull it off. It can be a difficult challenge to get this many musical egos in a room and have them try not to outshine each other, but they don't. I don't know what dark magic Janet and crew used to let all that ego simmer but they ended up with an album that is devoid of ego. Do I sound impressed yet? 
It's a known, undeniable fact that Janet has a voice, but personally, I think she has several. She can get down and growl, belt at the top of human hearing, whisper sweet nothings and lull you into her charm. She does it all with extreme confidence. There is no hesitation and everything has its purpose. 
Every song has dynamic range, from kicking out the jams to sparse sweetness. It's rich. It's textured. It's complex. Like Janet and her crew, there are many levels of complexity to these songs. These are the kind of tunes that start innocently enough, you know, like the kind you wouldn't mind bumping into at the grocery store, but then you quickly realize they aren't what you thought they were and you find yourself pushing your cart faster like there's only one pack of your favorite greek yogurt left, on sale no less. Like I said … complex. 
I contemplated picking out a favourite, or two, or five, but I couldn't. The songs work so well together that it is more like moments of the same story. I mean, you wouldn't describe a movie to a friend by picking out a favourite scene then attempting to represent the entire film by that one scene (or at least you shouldn't!) so I can't do that here. There are favourite moments, but there are a lot of them. 
As this is my first review for Rock Island I haven't figured out a rating system yet. Do I go with stars? Thumbs? Thumbstars? I don't know. Whatever system it is it gets a bunch of 'em: 5 Thumbstars! 
Janet Cull's IN THE RED will launch their album with a release party at Exile (located in the Jag Hotel) on Sunday, November 6th at 8pm. 
The album is now available in stores and online. 

Facebook
Twitter
http://www.janetcull.com/​




The Writers: 
1. Tired Heart (Virginia Fudge) 
2. All You Gotta Do (Mick Davis) 
3. Is That You (Mick Davis) 
4. Broken Hearts (Chris Kearsey) 
5. Real Tough Love (Kalem Mahoney) 
6. One Plus One (Mick Davis) 
7. You Boy Blue (Virginia Fudge) 
8. Highway Of Tears (Steven Miller) 
9. Should I Hold On (Andrew LeDrew)
10. Losing You Is Like Losing Faith (Janet Cull, Andrew LeDrew) 
11. Mommy's Boy (Janet Cull, Virginia Fudge) 

The Players: 
Paul Kinsman - Accordion, Organ 
Mick Davis - Guitar 
Brad Power - Guitar 
Elliot Dicks - Drums, Percussion 
Evan Smith - Piano, Synth, Vocals 
Craig Follett - Bass, Vocals 
Robert Kelly – Bass 
Andrew LeDrew – Acoustic Guitar 
Justin Merdsoy - Synth, Mellotron, Vocals, Guitar 
Emily Dunsmore - French Horn 
Terry Campbell - Trumpet 
---
About Author: 
International Musician of Mystery Todd Shelter is an Alias but the musician he protects knows his stuff. 
He's seen some things. 
He's done some things. 
Some of which he isn't proud of. 
But Rock Island has been entrusted to protect his identity at all costs so that our world can be much more safe… one review at a time. 
…Also, he's owes us money.
---