For the ninth consecutive year, Lawnya Vawnya gave St. John's a festival celebrating the overflow of talent found in the independent Canadian music and art scene. With a strong mix of acts from near and far, there was a solid line up of fresh creativity representing people of all walks of life, and styles of music.
From May 22nd to the 25th, there was a steady stream of art and entertainment with something for everyone. The organizers, staff, volunteers and venues of Lawnya Vawnya put on a festival that was equally entertaining, enjoyable, welcoming, and safe for everyone involved.
With so many events happening simultaneously, it was impossible to attend everything, despite my best efforts. From what I've heard, I missed probably as many great shows as I attended.
Wednesday, May 22nd: 
My Lawnya Vawnya experience began on Wednesday night at The Rock House, with opening act local singer/ songwriter Justin Strong, and his backing band consisting of guitar, keyboard, drums, and backing vocals. This was an interesting choice for the first set of a festival – instead of a high energy opener, Strong played a set of slow, dreamy indie pop ballads, leaving the audience in a comforting haze.
Playing mostly originals, a cover of George Harrison's "Your Love is Forever" was a well-suited surprise. 
The haze cleared when Toronto-based duo Bonjay hit the stage. The audience shook to life with their mix of Ian Swain's dancehall/reggae compositions and Alanna Stuart's soaring vocals seemingly drawing influence from Fiest, Kate Bush, and Yolanda Adams.
Stuart stated that a performance worked both ways – the audience gives and receives just as much as those on stage, and as Bonjay injected the crowd with fresh vibrance, the crowd gladly returned the favour with a packed cheering dance floor.
The first night ended with fellow Toronto-based band Absolutely Free. This psychedelic rock group draws on new wave, krautrock, house, and minimal synth to bring mesmerizing jams, with a focus on improvisation and technical skill. Unfortunately, the set wasn't absolutely free of mishaps – a fan had to be escorted off stage by security mid-set, and the set ended with a microphone falling on the drummer. Nonetheless, the band persevered and never missed a note with their laser-like focus. 
LV9 was off to a solid start.
Thursday, May 23rd:
First up on Thursday was a live taping at The Rocket Room. "The Renee Sharpe Show," a local Facebook live stream in which the titular host featured guests Bonjay, folk singer Camille Delean, and punk band Protuders, inspired a broad conversation ranging from relationships, and tarot readings, to "Should Renee have a baby or get a dog?" Bonjay's Alanna Stuart then showed the audience her preferred way to make porridge. Adding to the show, was a live performance by Protruders providing a tease of their Saturday show.
Crowds then travelled uptown to The Rec Room, a deluxe new venue within the Avalon Mall. Boasting an arcade, restaurant, bar, bowling alley, VR games and axe throwing, there was a lot to grab your attention, but there was one clear standout – the stage.
Lonely Parade, a trio of Montreal punks, hit the crowd with a noisy yet catchy blast of alternative rock getting the attention of both the people attending the festival, and those at the pinball machines.

Next was a set from the highly acclaimed DJ Kid Koala. Being a longtime fan, I was excited to see if his live shows would live up to the hype – it did.  
As he spun and scratched his way through a huge stack of wax with his three turntable setup, he played both classics and deep cuts, seamlessly fusing sampled songs into seemingly his own creations.
He engaged the audience, encouraging people to be creative with the videos and photos snapped during his set, and inviting them them on stage. This was definitely the only show of Lawnya Vawnya during which a crowd of people (generally) 19+ were dancing publicly to music from Yo Gabba Gabba, known for their live action/puppet children's show originally aired on Nick Jr. This alone speaks volumes to the quality of the experience.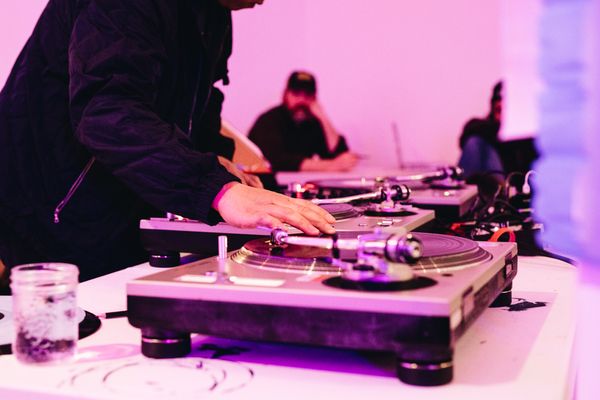 Photo by: Adam Hefferman
Thursday finished off at The Ship, with local folk rock group Spring Var opening the show.
I caught a couple tunes, leaving me wishing I had heard more. Their sound, a blend of folk, indie and psych stood out, reminiscent of groups like Wussy. 
Lonely Parade, fresh off a satisfying performance at the mall, performed another set for fans still hungry for more. They brought the same amount of energy and intensity as they did a few hours previous. Impressive stamina, considering the band had started their day at 5:00 a.m. in Montreal.
Edmonton's Faith Healer, a 3-piece pop group wrapped up the show at The Ship. A sonic meeting between dream pop, alternative rock, and 70's rock, the calming atmosphere paired with some serious grooves and sprawling guitar solos. It inspired me to attend their Friday pop up show at The Black Sheep, which surprisingly featured a nice cover of The Band's "When You Awake".
Friday, May 24th:
After two full days of exceptional entertainment complete, the official weekend kicked off at Eastern Edge Gallery for another Kid Koala show, this time for something completely different – "Music to Draw To." Instead of a highly active DJ set, this instead focused on ambient, downtempo music designed for the audience to relax, work on their own projects, and draw. It was a two-hour long meditation that brought out the productivity in everyone – definitely a sleeper hit of the week.
After taking a pop up show by the previously mentioned Faith Healer, it was time for the headlining act – U.S. Girls at Club One. This was the most hyped event of the festival, and understandably so – it was the biggest band (both popularity wise and band member count), at the biggest venue. 
Renders, the brainchild of Kelly McMichael opened the show. A four-piece band of recognizable faces from the local music scene, Renders played set of chill alternative pop – calm, but still building anticipation with some thumping bass grooves, the audience growing during their set.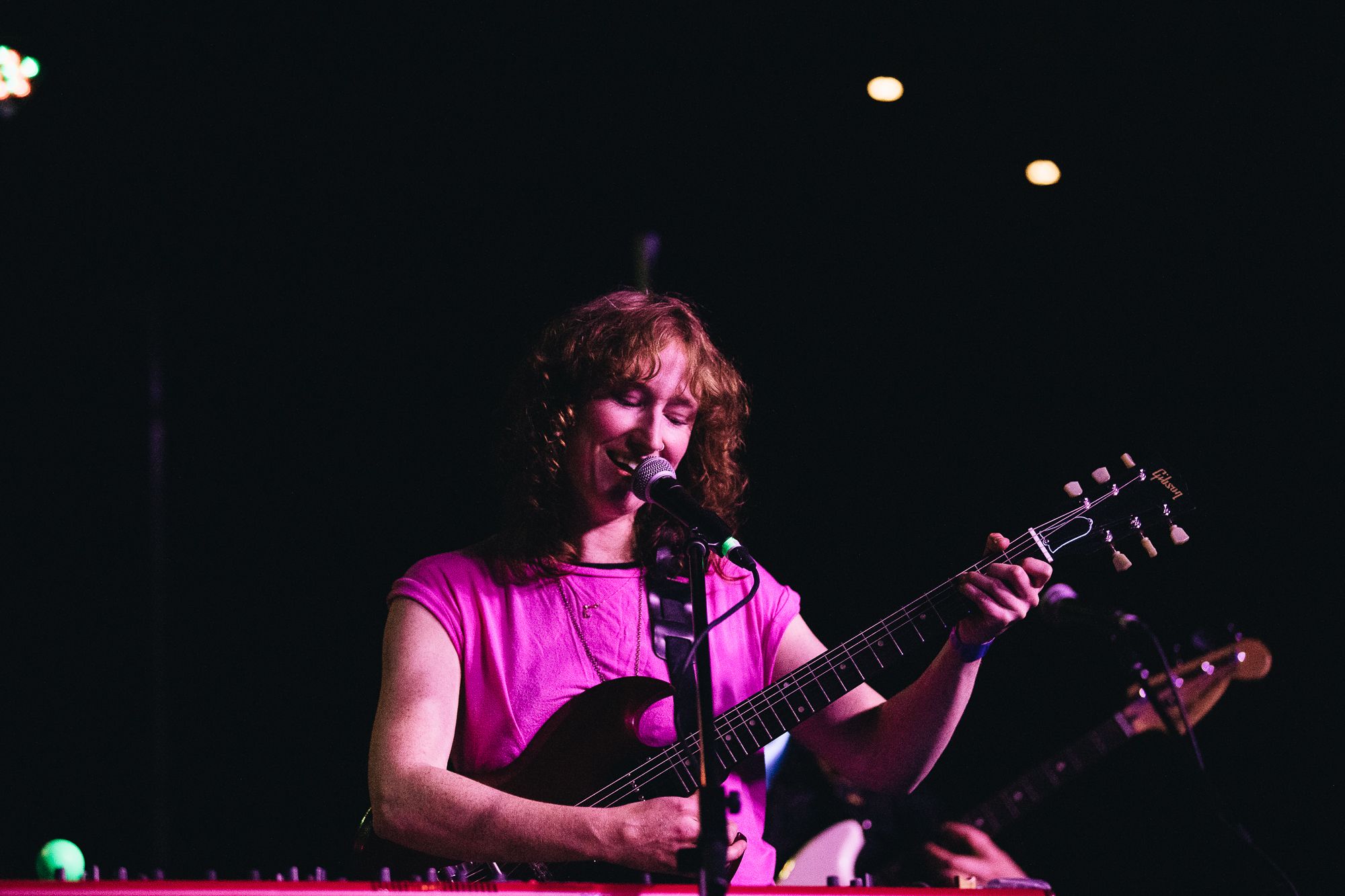 Photo by: Adam Hefferman
The time had come for U.S. Girls. While technically only having one member – Meghan Remy – the band featured 10 musicians, with a four person rhythm section, dual guitarists, saxophone player, keyboard player/vocalist and two front-women creating a unique blend of sonic space. Art pop would be the best way to describe U.S. Girls' shifting soundscape – no matter what direction they took, the music always stayed rooted in pop.
As soon as they began playing, the floor exploded into dance – no one was safe from the infectious rhythms and captivating melodies. If you weren't grooving at the start, you were when Meghan went into the audience to join in the fun on the floor. After a long jam which had members dropping out until they had all left the stage, the group came back for the encore with some change of outfits and a few more tunes to end the show with a bang.
Friday night still wasn't over yet – off to the Black Sheep on George for the remaining half of the punk showcase. 
Worst Lay, despite their name, make good on their opening statement of being "the best seven minutes of your life." Performing heavy-hitting hardcore with Renee Sharpe at the helm, the relatively short set wasted no time with banter. There was a constant surge of angry, pissed-off energy and enthusiasm.
Local emo group Swimming was on next, a group comprising of familiar faces from previous sets. Drummer/vocalist Jacob Cherwick had played earlier with Banana Vacuum, along with guitarist/vocalist Liam Ryan, who also did a set with Gossamer. With bass player/vocalist Nick Hunt, they brought out another set sounding wide awake and recharged, performing tight, angsty tunes with a knack for catchy hooks that would not let go.
Closing the show was Montreal's Gulfer with their signature sound of emo and math rock leanings. This group of seasoned players brought their A-game. A great live band, Gulfer was comfortable with the audience, claiming at one point that some of the best skramz comes from St. John's, inspiring cheers. Playing tracks from early albums and EP's to more recent songs of their latest full length "Dog Bless," their set both thrilled longtime fans and gained them new ones as well.
Saturday, May 25th:
This was yet another day full of cool events, but knowing it was the last day of Lawnya Vawnya made it bittersweet. Starting on a long, sustained note was Drone Day, a celebration of drone music in collaboration with the Newfoundland Sound Symposium at Eastern Edge.
Beginning with the boats in the harbour performing a piece with their horns much to the delight of passers by, the focus then quickly went into a parking garage where local noise musician Sleeping Police performed a set before letting the crowd take over with a free, open jam.
Many showed up ready to participate with their own instruments ranging from guitars, shruti box (an instrument found mainly in Indian classical music), to laptops, with everything in between. Coordinators offering spectators guidance to help them get into the jam with accordions, synths, and microphones. The event seemed focused on the building community through musical exploration, rather than fixating on the talent of any particular performer. 
At Rocket Room at 7 p.m., there was a film screening for the Nickel Independent Film Festival's Banana Vacuum Video Challenge. Banana Vacuum are a hardcore punk band fronted by 8 year old Mark Cherwick who also writes all the lyrics. Since their first release, "Never Mind The Minions Here's Banana Vacuum," in 2018 the group has gained a following for both their humour and absurdity – plus the fact that they make some damn good hardcore.
Local filmmakers were given 48 hours to make videos for Banana Vacuum songs, and what ensued was a showcase of filmmaking talent, all equally wild, creative and unique. The show didn't stop with the music videos, as Mark Cherwick asked the filmmakers questions about their short films, ending with the hilarious analysis of the ethics of banana murder. This was another stand-out event, as it paired artists of different mediums for a fascinating output.
Finally, I was at my final event – a rock show at The Ship hosted by Secret East. Local openers Tired Wired featured four familiar names in local music (Pepa Chan, Mitch Dyke, Michelle LaCour, and Jess Barry). This side project opened the show with post-punk, leaving the crowd fired up and ready for more.
Next were two dynamic duos. First up was local favourites Swamps, featuring guitarist/vocalist Mike Coffin and drummer Mitch Dyke. Swamps tore up The Ship with their snarling, in-your-face garage rock. It's not hard to see why there was so much excitement for Swamps' return.
The next duo to was Bonnie Trash, featuring Sarafina and Emmalia Bortolon-Vettor, who delivered dark jams. A crowd favourite from the festival, Bonnie Trash slammed the audience with a booming drum pad, nasty guitar, and stern, haunting vocals. Gothic garage rock at its finest.
As the name would suggest, closing act Protruders are a band that stick out. Their angular art punk was one last thrill ride for an already wowed crowd. With a setup of two guitars, electric violin, and a drum set without the kick drum, Protruders leave the low end behind. Their groovy yet disorienting rock is hard to explain, and is really something that needs to be seen to be believed.
This 9th edition of the Lawnya Vawnya festival brought high quality art and entertainment to an island often starved for fresh, new music made by new faces, and I definitely left feeling satisfied.
Promoting up and coming Canadian acts while simultaneously highlighting some of the best talent that Newfoundland has to offer, Lawnya Vawnya continues to prove that it is one of the most important festivals for the provincial music and arts community.